Manchester City have been on a roll this season. With Premier League football, UEFA Champions League and the Carabao Cup all in their trophy cabinet, they are one of the most successful teams ever seen in England. What is it about Sergio Aguero that makes Manchester City even more unstoppable?
The "man city players" is a football club based in Manchester. The team is one of the most successful clubs in English football history, having won the First Division four times, the FA Cup six times, and League Cup twice.
I still remember the pleasure of making my Manchester City first-team debut at the age of 17 – it was the finest day of my life at the time – so I'm always excited to watch other youngsters receive their big break.
Until recently, it hasn't occurred much at City in recent years.
This season, Pep Guardiola has handed debuts to eight academy graduates in the Community Shield and Carabao Cup, and perhaps we'll see a few more in the fourth round against West Ham United on Wednesday.
There's a lot of skill in this generation of teenagers, and they're a lot more technical than the guys City was producing 15 years or so ago when I was there. I'm not surprised they're causing such a stir, particularly because so many of them are English.
Cole Palmer may be the finest of the lot; some of the touches I've seen from him are incredible, and he is an extraordinary talent.
He might follow in the footsteps of Phil Foden and become a regular in City's first team, but the statistics demonstrate how tough it will be for any of them, no matter how brilliant they are.
When I was younger, I discovered this for myself, and here I share some of the experiences of players with whom I was friends and roommates as a teenager, when we were all dreaming of making it big.
Micah (right) shared a home with Ashley Williams (left) and Karl Moore (centre) while they were both playing for the City youth squad. What was it like living with him back then? Find out more in the next paragraphs.
'The difference is that I was given a fair opportunity.'
It was simpler when I was a young player at City, when the club didn't have a lot of money to spend on players. They were known for moving young players through the ranks and into the first squad for a reason: they needed us.
From the founding of the City academy in 1998 until the takeover by Abu Dhabi in 2008, 26 players progressed from the junior squad to the first team, with 20 of us starting at least one competitive match.
There were 44 academy players who made their senior debut for City between 2008 and the beginning of current season, which seems to be a strong figure on paper, with 32 of them starting a game.
However, just 16 players have made more than one start, and only four players have made more than 20, including Foden, who has the most with 74.
When I was younger, just three of the twenty players were granted a single start. Eight of us started more than 20 times, for a total of 998 starts for City, compared to just 212 for those who came after us.
Because we had a small team, we had a better opportunity, and a terrible game did not spell the end for us, but that is no longer the case.
Micah Richards made the most starts for Manchester City of any of the 78 players who have progressed from the academy to the first team since the club's inception in 1998. With 74 starts, Phil Foden is sixth on the list.
'It's easy to become sidetracked.'
The true task for the teenagers who have made it this season is to alter that, not only by making the squad, but by remaining there, as only Foden has done at the club in the last 13 years.
However, ability alone is insufficient. Because I've been there and seen it myself, I know how difficult it will be for them to establish themselves at City, much alone make it in the professional game.
There will be moments when they feel forgotten or left behind, but my counsel to them is to keep focused on their own path, since that is what they are now on.
When they were adolescents, many of my former teammates and friends went by the wayside for different reasons, regardless of how excellent they were.
This is what happened to only three of them, and it was all out of their hands.
'That was horrible to watch it happen to my buddy,' Danny Allen says.
Danny Allen joined City from Oldham on the same day as Micah, when they were both 14, in the summer of 2002, but he damaged his knee on his first day of pre-season training.
Micah: I know no one believes me when I say I used to play up front, but at Oldham, Danny was my striking partner. He was also a buddy of mine.
When I was with Oldham and when I initially joined City, I still lived in Leeds, so I used to spend a lot of time at Danny's place. When my father couldn't, his father would take us to training, and he had such a great family who were always very kind to me.
When he didn't make any progress, it was much more difficult. Danny was gifted with more technical skill than I, but as I progressed at City, his injuries prevented him from progressing.
Because we had been together for so long, it was heartbreaking to watch it happen. As you grow older, you realize that's all part of the game, but as a young child, it was a terrible predicament to be in.
It was terrible to learn that he would not be retained by City. I couldn't walk around his home because it felt strange; I wanted to speak football as we usually did, and chat about the games we'd participated in, but I knew he couldn't play because of his injuries, whilst I was on the mend.
Danny Allen, inset, during his time as a player for Manchester United FC in 2007 and currently at his gym
Danny: Micah and I used to play together all the time. I was the one with the touch, while he was the one with the muscle! All I wanted to do was play football, and City were considering sending me to England trials, so I was dreaming big.
My injuries were solely a result of my rapid development. Because my left leg is an inch longer than my right, whenever I ran, the right leg would straighten out and reach for the floor, causing the cartilage to wear away.
It initially went out from under me on my first day at City, and it was never the same after that. I've undergone three keyhole operations to attempt to correct it over the years, but it wasn't to be.
My whole stay at City was marred by injuries until I graduated at the age of 16. Then I had a trial with Bolton, where I scored a hat-trick, but they said they didn't have the funds to sign me, so that was the end of it, and I moved into non-league football.
When I was playing, I was constantly concerned with my fitness, which encouraged me to pursue it as a vocation. At the age of 21, I quit playing football because it was interfering with my career as a personal trainer.
Of sure, I miss it, but I enjoy what I do now: I run a CrossFit club in Saddleworth that has been operating for six years. It reminds me a lot of my football days because of the community we have here.
'He was our Nicky Butt,' says Ashley Williams.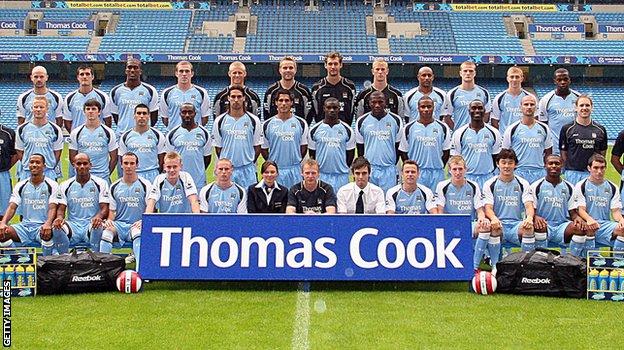 "I didn't make it into City's first team matchday squad, but I earned a squad number – 35 – in 2006-07 and was in the pre-season picture," Ashley Williams explains. "I'm the small skinhead in the first row, sixth from the left."
Williams joined City at the age of 14 and was a member of the side that won the FA Youth Cup in 2006. Micah's first housemate after he left home was him, and they lived with a family in Stockport.
Micah: Living with Ash made me laugh a lot since he was constantly getting on my nerves. He enjoyed a challenge as a player – I used to play in midfield with him and we were like two ratters together – but he was also a fantastic passer.
He'd slam guys into each other, then ping a 40-yard throw. He didn't influence play in midfield, but he had excellent tight control and would mop up – he was a little like Nicky Butt in that he was fantastic on the ball but didn't make a fuss, and he was someone I really loved playing with.
Ashley: The one thing I didn't like about City was how it ended. In March 2007, manager Stuart Pearce informed me that I had been dismissed and that I could find a new club on my own, but I didn't have an agent and had no clue how to do so. I'm hoping for additional help now.
I was hoping for a Football League team to come in and sign me, but no one did. I was practicing with City's first squad at the time, and since I didn't have a club, I swiftly moved on to playing in the West Cheshire League for my father's friend's team.
After a year, I was able to return to a higher grade with Vauxhall Motors in the Conference North, and subsequently had the opportunity to move full-time with TNS in the Welsh Premier, but the timing was wrong since I was just beginning my apprenticeship as an electrician.
At the start of the 2018 season, I was playing part-time for Airbus UK when I was the victim of a horrible tackle. I fractured my leg in two places and it was an open fracture, so it was really horrific. I haven't played since – I took a lot of time off work because of it, so with my age and everything, I decided to call it quits.
Micah is currently on Match of the Day, which is strange. We were both pulled out of school for a day and a half each week in our last year since we were considered as having a promising future in football, in addition to living together. I'm glad he turned out well, but it didn't exactly work out for me.
'I used to steal his aftershave,' says Karl Moore.
Moore wins a header in 2019 for Shelbourne. During his 11 years in the League of Ireland, he played for six different teams, including two stints with the team he loves, Bohemians.
Moore, a Dublin native who joined City at the age of 16, was a part of City's FA Youth Cup final squad. When Ashley moved out, he moved in with Micah and the two of them lived together for two years.
Micah: Karl was always really bright, and he was far more concerned about his studies than I was. I used to steal his aftershave, and when he found out, he was furious.
He was a talented winger, and I'll never forget an incredible goal he scored for the junior team against Nottingham Forest, in which he outshone around five players, but the time was never perfect for him to earn an opportunity with City.
Karl: Micah used to nick everything, even my boxer shorts, and it wasn't just aftershave.
Last summer, I retired and consider my experience at City to be the perfect club at the wrong moment. I never played for the first team, but I believe I would have had a better chance of breaking through if it hadn't been for Thaksin Shinawatra's two takeovers, the first in 2007 and the second in 2008.
Prior to it, there existed a pathway for youth-team players to join the City first team, but it was closed for a spell.
When I arrived to City, I was fortunate to have some schooling and had completed some studies – I'd previously completed the equivalent of my GCSEs back home, so I studied A Levels in mathematics, accounting, and economics in Manchester.
It was a pain at the time, but it worked out nicely for me. I also took some accounting tests at Manchester University and continued with City until 2010 – but I was ready to return home by then.
I went back to college in Dublin while playing in the League of Ireland, then continued to play while working and worked my way up to where I am today, a commercial financial analyst.
I have no regrets about how things turned out in England; I didn't make it big, but I never lost interest in the game, and I like my profession as well, so I've got the best of all worlds. I understand that not everyone is that fortunate.
Micah Richards, Danny Allen, Ashley Williams, and Karl Moore spoke with Chris Bevan from Sport.
With Manchester City's recent success, the next Phil Foden is being sought after by many clubs. However, what makes a player like Phil Foden so successful? They have been able to make an impact in games and be a key part of their team. Reference: phil foden stats.
Related Tags
man city transfer news
bbc sport
man city tickets